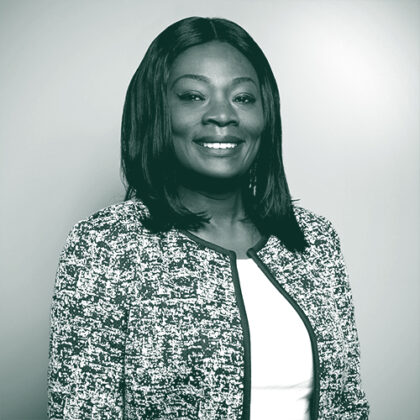 Oladoyin Durojaiye
Senior Assistant Company Secretary
Dublin, IE
Oladoyin is our Senior Assistant Company Secretary. Oladoyin's responsibilities include assisting the Group Company Secretary with all Company Secretarial matters affecting the firm both within UK and overseas.
Oladoyin was called to the Nigerian Bar as a Barrister and Solicitor of the Supreme Court of Nigeria, and following a short practise with the firm of Victor & Charles Solicitors veered into corporate governance. She is an Associate of the Chartered Governance Institute with over 25 years' experience from private practise, client services and publicly quoted companies across different industries such as oil and gas, non-profit and pharmaceutical. Oladoyin was part of the project team for the acquisition of UDG Healthcare plc by the private equity firm Clayton, Dubilier & Rice.
If Oladoyin was not working with McGill and Partners, she would be working with people struggling with addiction.
"I joined McGill and Partners to be part of an exceptional team at the inception stage of the firm contributing to its growth, and for its unique approach and inclusiveness."
To get in touch with Oladoyin, email: oladoyin.durojaiye@mcgillpartners.com
No results found.